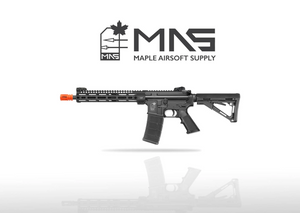 Maple Armouries
2023 Maple Armouries Blackout AEG (Aluminum Receiver)
Regular price
$323.00
$0.00
Unit price
per
*Still In Production - Coming Soon*

Introducing the new 2023 MAS Blackout AEG, including several major upgrades:
RHOP 2.0 is now standard on all builds, greatly improving hopup performance with full coverage hop designed specifically for the ZCI Stainless Steel Tightbore Barrel


The A2 Pistol Grip has been upgraded to the MAS Optimized Motor Grip, featuring improved ergonomics and excellent motor angle engagement with SHS style gears


Now includes a custom made Sorbothane Pad for the cylinder head, greatly reducing the stress on the front of the gearbox to improve shell durability 


Now includes a milspec style Ambidextrous Magazine Release
Now Includes our new updated magazine, the MAS M200 Low Friction Midcap


The front body pin has been upgraded to the MAS Magic Pin, providing better lockup between both receivers and easier disassembly


The trigger has been upgraded to a CNC shorter pull trigger with improved ergonomics


The A2 style flash hider has been upgraded to a tri-prong with external threading for muzzle devices

***We have free shipping Canada wide and to the US on AEGs over $300 CAD. I recommend getting a couple batteries and magazines alongside your AEG***
*** $399.99 CAD is roughly $300 USD*** 

Introducing the Maple Armouries Blackout by Maple Airsoft Supply. This rifle is the evolution of our previous SBR AEG, featuring further upgraded internals and refreshed externals. We utilized aftermarket parts from various venders in order to provide a high performance platform out of the box. The rifle shoots approximately 385 fps with 0.2g bb and is perfect for both indoor and outdoor games. You can expect to shoot approximately 200 feet with a 0.28g BB. Our mentality is to avoid using any proprietary parts and as such the Blackout AEG is fully user serviceable with generic v2 parts available from any airsoft retailer.
The gearbox internals are what really set these guns apart from their competition. We utilized high quality aftermarket internals in order to provide an unmatched out of the box experience. By combining high speed gears with a neodymium high torque motor, this AEG is capable of extremely snappy trigger response in semi auto that would normally only be possible with upgrades. 

Black Blitz Airsoft was kind enough to now provide the electronics for all the standard version AEGs going forward. The BCA Mosfet has four times the max amp draw compared to the previous Jefftron Micro Mosfet 2. In a stress test the PCB was barely warm to the touch after full autoing in a Blackout for ten minutes straight. I can't thank Black Blitz enough for all the effort and support they put into this platform.

Internals:

BCA mosfet soldered to the trigger contacts (new for 2022)
Steel 8mm bushings
21.1mm nozzle
13:1 CNC gearset with 9 tooth bevel gear installed
22 TPA neo magnet high torque motor 
Stainless steel cylinder
Aluminum airseal parts
330mm 6.02mm stainless steel inner barrel (ZCI square cut)
Externals:

Crane (Li-Ion/Li-Po) or CTR stock (Li-Po only) 
Aluminum (A383 grade) receiver set 
Aluminum buffer tube

(with true quick change spring through the buffer tube)

10.5 inch aluminum m-lok handguard
Plastic flip up sights
Aluminum A2 flash hider
A2 pistol grip for improved pinion-bevel meshing
12.5 inch outer barrel
Polymer mid capacity magazine included



---