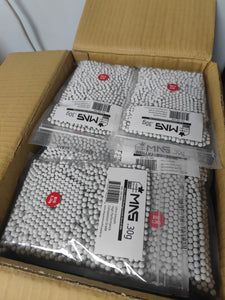 Maple Armouries
Maple Armouries Premium Airsoft BBs
Regular price
$7.00
$0.00
Unit price
per
*We are happy to announce that free shipping on BB orders now starts at CA$150 (about $120 USD) for Canadian and American orders*

Produced by BLS with custom requests for molds, polish, and QC, these BBs are intended to perform like the old beloved BB Bastards.

We recently ran out of our stockpiled BB Bastards at the office and were looking for an alternative with similar performance and value. BLS' off the shelf BB is great but they have significantly more friction inside the magazine than BB Bastard.
With midcap magazines recently trending towards 200+ BB capacity it's important to limit friction to prevent misfeeds, particularly with heavy BB / high RoF setups.
After speaking with BLS a few times they finally agreed to produce this batch of BIO (0.28g, 0.30g, 0.32g) and NONBIO (0.25g, 0.28g, 0.30g) for a similar price as the off the shelf version.  In the future we will have them produce heavier and tracer BBs to this spec as well.

---